Milman Design Build has been involved in the Greater Toronto area's real estate market for over a decade.
We've designed and built dozens of projects and commercial renovations throughout the years and one of the main questions we've received again and again was "I want to invest in the Toronto Real Estate market.
Can you help me?"
If you are interested in real estate investing in the Greater Toronto area, we can help you!
Why us?
We are an urban investment, management, and broker company that purchases small to mid-size buildings.

Target on value-added conversions of residential income-producing rental properties.

Purchase off-market or at a deep discount.

Focus on primary and secondary markets in Toronto.

Two partners bring an experience in construction, brokerage, property management, and development which makes it a one-stop-shop. a company that provides all the service in-house.

Together they combine over 30 years of real estate experience and dozens of finished projects.
Economy of Canada
Canada is the second largest country in the world and one of

 the seven strongest economies.

The population of Canada is 37million residents.

Canada is the best country in the G20for doing business over

2020-2024.

Canadians enjoy one of the highest standards of living in the G20

as measured by GDP per capita (US$). www.international.gc.ca

Canada is considered one of the world's most stable economies and the banking system ranks first in the G7for the 11th year it is one of the soundest in the world Global Competitiveness Index 2018 –2019.

Canada's average annual GDP growth is forecasted to rank second in the G7 in 2020 at 1.8%.

Since May 2014, Canada created more than 1 million jobs, an increase of almost 8%, with over 88% of those being full-time positions.
Economy of Toronto

Toronto is the economic heart of Canada with a population of 6 million residents.

Toronto is in thetop10 most livable & safest places in the world ranked by EconomistIntelligence Unit's 2019.
Toronto is a large hub of the Canadian & global technology industry, generating $52 billion in revenues annually.
The Toronto Stock Exchange is the world's largest exchange for the mining, oil, and gas industry, the leader in cleantech listings, and is second in North America in the number of technology companies listed.
Half of the largest companies in Canada are headquartered in the Greater Toronto Area
In 2015 Toronto was ranked as the best place to live according to the Economist www.toronto.ca
Is Toronto Real Estate the new gold?
Very low mortgage rates.

Healthy and stable economy.

Decisive social and strong monitory actions of government.
High demand for rent and buying.
History of crisis teaches us that today is the best time for Real Estate Investments!
Crisis and opportunities in desirable cities such as Toronto happen once in a decade-
Canada is a topmost investment destination, and a hotspot for international investors because of its strong and stable economy.
Canada's government's handling of the Coronavirus outbreak is superb.
Sales of houses/condos for the first week of March were up 47% and average prices rose 18% compared to the same period last year.
The financial crisis of 2008 was the best time to get into the housing market!
Toronto Real Estate Market
With the growing population in Toronto, the demand for rentals is at an all-time high both immigration and Canada's growing tech industry are bringing a surplus of qualified residents to the city.

Ministry of Finance predicts the GTA'spopulation will surpass 8.4 million by 2031 and more than 10 million by 2046.
With major developments and well-known high-profile tech companies choosing to set up shops in Toronto (Uber, Pinterest, and Microsoft), the demand for available rentals will continue to climb.
Canada & Toronto Rent Prices-

Case Study-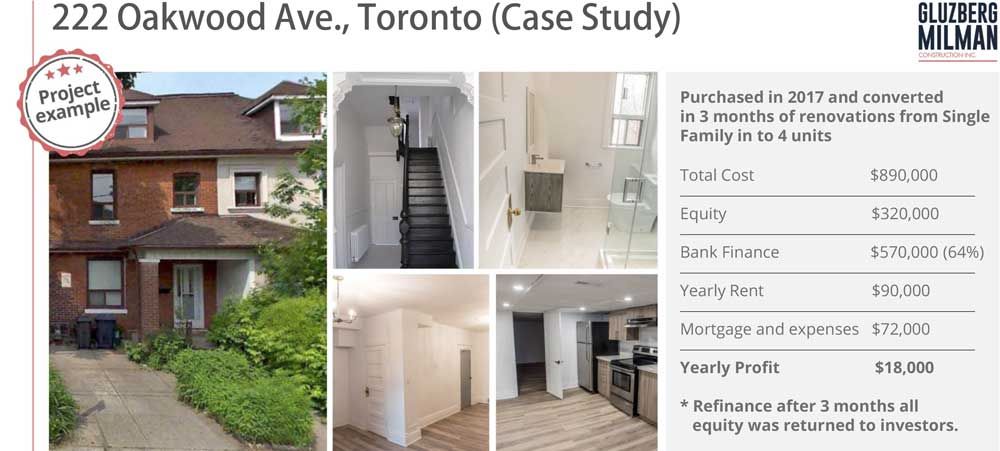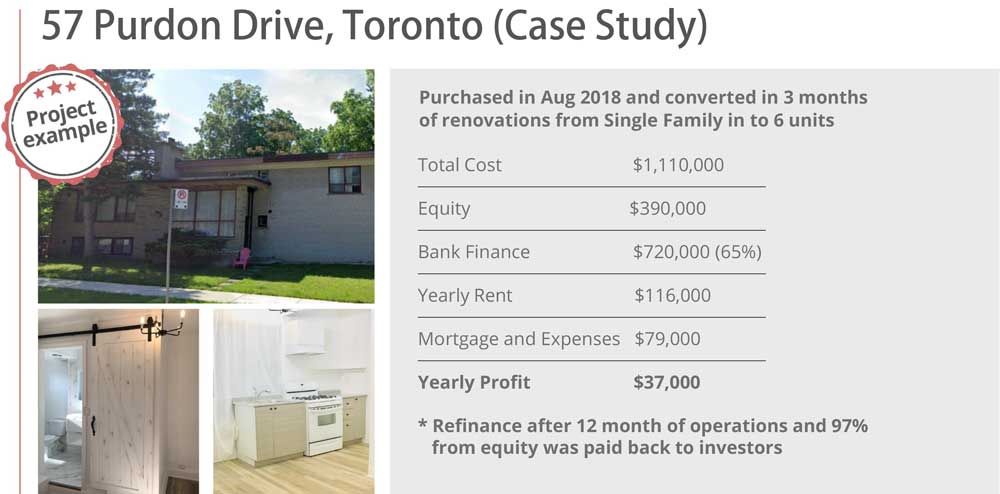 Disclaimer
This investment summary is not an offering of securities for sale in any jurisdiction.

Any offering to be made will be done only by means of a confidential offering memorandum that will contain detailed information about the LLC's interests, the company, and the merits and risks of the offering

No sales will be made, No commitments to invest in the company will be accepted, And no money is being solicited or will be accepted Until a confidential offering memorandum is made available to prospective investors; and any indication of interest from prospective investors in response to this investment summary involves no obligation or commitment of any kind.